Online Bill Pay is a fast and easy way to make payments without the hassle of writing checks. At any time, from any computer, you can:
Make payments
Set up repeating payments to be paid automatically from your account
Monitor payment information
Set up automatic email notifications to alert you when payments have been made
Payees who accept electronic payments will be transmitted on the date you specify. For payees who do not accept electronic payments, a check will be mailed from Chambers Bank to the payee's mailing address you entered when you set up the payee in Bill Pay. If the payee does not accept electronic payments, we recommend that you request payment at least five (5) business days prior to the date the bill is due. Chambers Bank is not responsible for any late payment fees assessed by the payee.
Getting Started with Chambers Online Bill Pay
To use Bill Pay, Chambers Bank customers must first enroll in Online Banking and accept Chambers Bank's Online Banking terms and conditions. Once you're enrolled, sign into Online Banking and select the Bill Pay tab at the top of your screen.

The "Enroll in Bill Pay" screen will appear; select "Enroll now" to begin.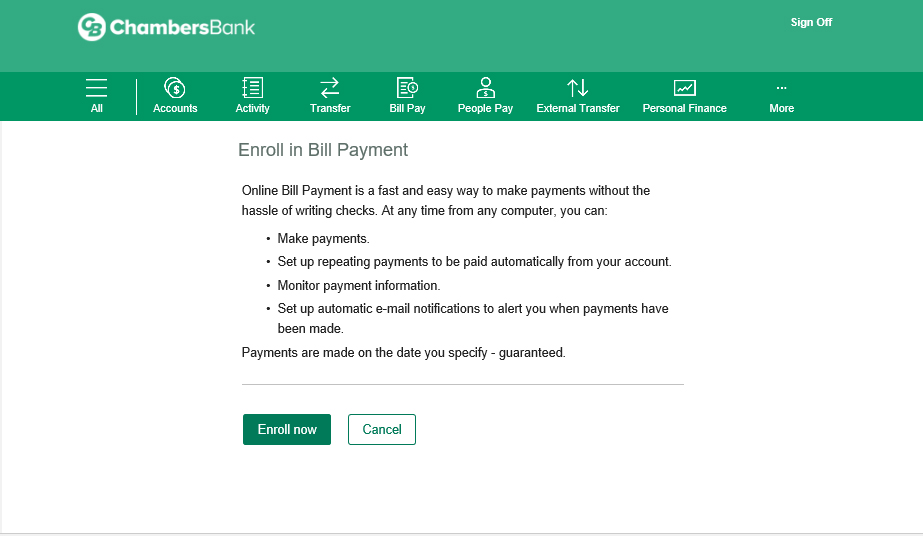 Click the radio button for the account that will be your Default Account.

Click the Starting Number checkbox and enter a check number if you would to have a separate sequence of check numbers for bill payments (this is optional).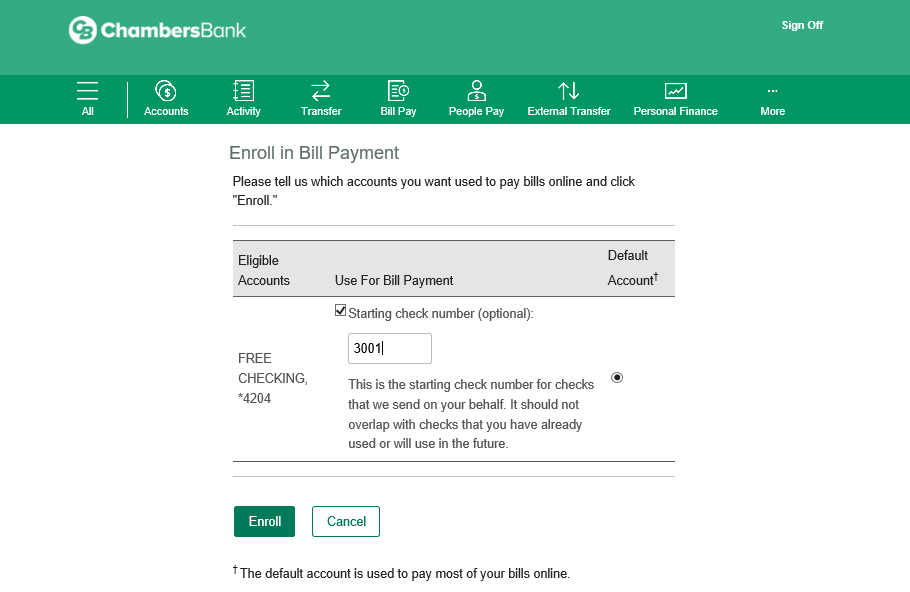 You will receive a confirmation message after successfully enrolling.
From here you can go ahead and click on Make Payments to set up and send your first payment or View Accounts to return to the online banking welcome page. (Or can use the normal menu options for either of these).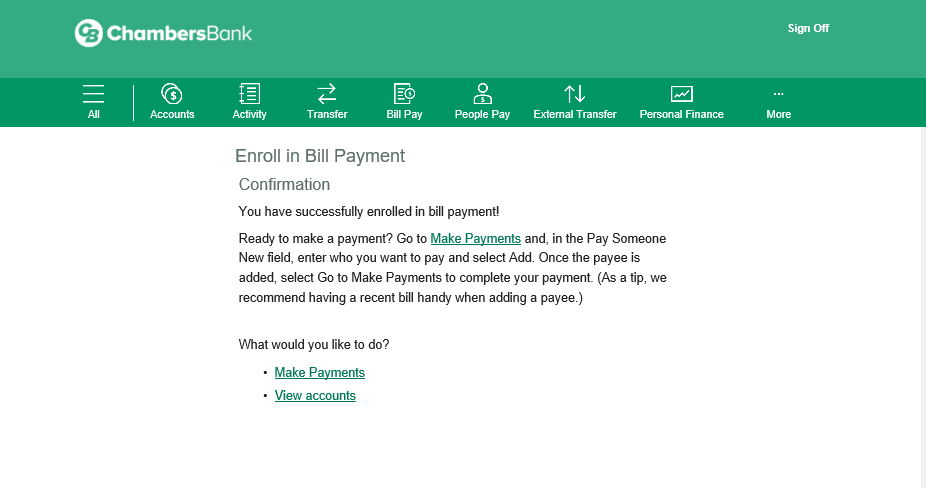 Adding Payees

Use printed copies of your bills and click on the red "Add Payee" link to begin adding each biller to your Bill Pay service. You must add Payees before you can schedule Bill Pay payments.
After you click on "Add Payee," you can select from among one of the popular payees in your area or enter any person or business in the search bar on the right-hand side of the window.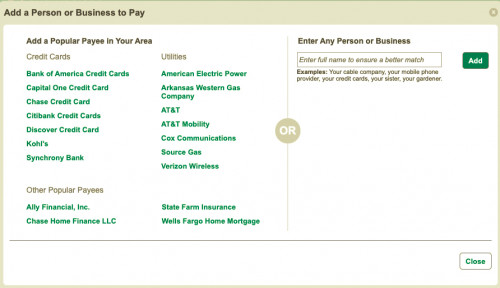 If you select one of the popular payees, you will be prompted to enter your account number (i.e., if you select AT&T, enter your AT&T account number). If you search for a payee, a list of suggested matches may appear. If no match is found, you will be prompted to enter a payee account number (optional), address, phone number (optional) and expense category.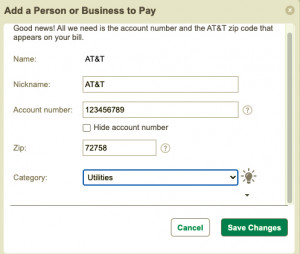 After selecting a payee, you can set up e-bill or auto-pay services or add a reminder to alert you when a bill is due.
Once you have successfully added your first Bill Pay payee, you can additional payees by clicking on the "+ Pay someone new" link.
eBills

eBills are electronic versions of paper bills. An eBill arrives from the biller into your Chambers Bank Bill Pay account (just like a paper bill arrives in your mailbox). By using Chambers Bank Bill Pay, you can view all of your bills – including account balances, transactions and statements – in one convenient location. You can also set up email alerts to notify you when a new eBill arrives in your Bill Pay account.
To securely link a payee account with Bill Pay, enter your online userID and password from the designated payee, and select a billing frequency. Bill Pay will confirm your login and connect with your payee account to set up eBills. Note that it may take up to two billing cycles to receive an eBill, so continue to make your payments as scheduled until you receive an eBill.
Auto-Pay

There are two types of payments you can schedule automatically: Auto-Pay in response to an eBill, or Auto-Pay at regular intervals.
Auto-Pay in response to an e-Bill is an automatic payment that you set up to be paid every time you receive an eBill without requiring approval each time. You can pay the full bill, pay the minimum due, pay nothing and file the bill, or create your own rule for how the bill gets paid. You can also select when to pay the bill – either when the bill arrives or a designated number of days before the bill is due (10 days is the default).
Auto-Pay at regular intervals is a payment that gets paid by establishing the time period when the payment should be made, along with other supporting payment details. You can specify the amount, the frequency, the start date and the end date or the number of payments to make. For example, you could have us schedule a payment for your car loan in the amount of $300 on the 1st of every month for the next 36 months.
Once you select the Auto-Pay option that works best for you, you can set up Auto-Pay by selecting the Payee (shown in green) and choosing "Set up Auto Pay." To edit or Cancel an Auto-Pay, select the Payee (shown in green) and choose "Edit Auto Pay."
Reminders
Reminders are not payments… they simply remind you when it is time to take action. You can set up single or recurring reminders and select how often you wish to receive reminders.
To set up Reminders, select the Payee (shown in green) and choose "Add reminder." You will select when you want to receive the reminder (default is 10 days prior to due date). You can enter an estimated amount due (optional) and change the amount before you pay.
Frequently Asked Questions
When are my Bill Pay payments deducted from my account balance?
Bill Payments are deducted from your total account balance when they're deposited into the payee's account. If the payee accepts electronic payments, the Bill Pay amount will be deducted on the day you select the bill to be paid. If the payee does not accept electronic payments, Chambers Bank will mail a check on your behalf, and the amount will be deducted from your account when the payee deposits the check and it is processed.
Are there Bill Pay fees?
There is no charge for Bill Pay service.
Bill Pay Cut-Off Time
Payments must be scheduled prior to 3:00 p.m. CST to be processed the same day.