Pay Your Bills Online
Online Bill Pay is a fast and easy way to make payments without the hassle of writing checks. At any time, from any computer, you can get your bills paid!
Pay your bills online with peace of mind and easily monitor payment information.
Set up automatic email notifications to alert you when payments have been made.
Set up repeating payments to be paid automatically from your account.
Stop the waiting game for checks to be delivered and never be late for a payment again.
How to Set-Up Bill Pay
It's super simple. So simple, you can do it in 8 easy steps and under 5 minutes.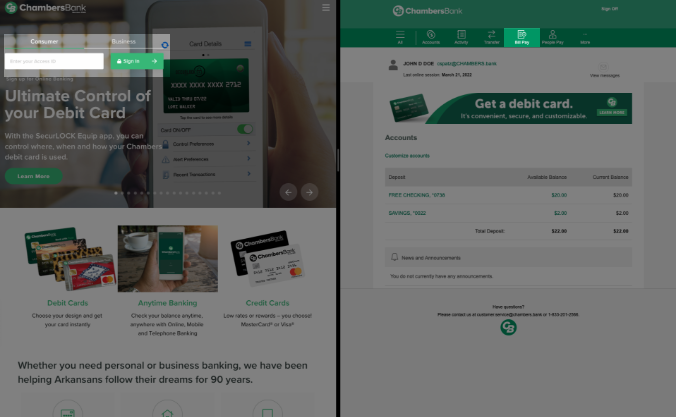 Step One: Log into Chambers Online Banking and select Bill Pay  at the top of your screen.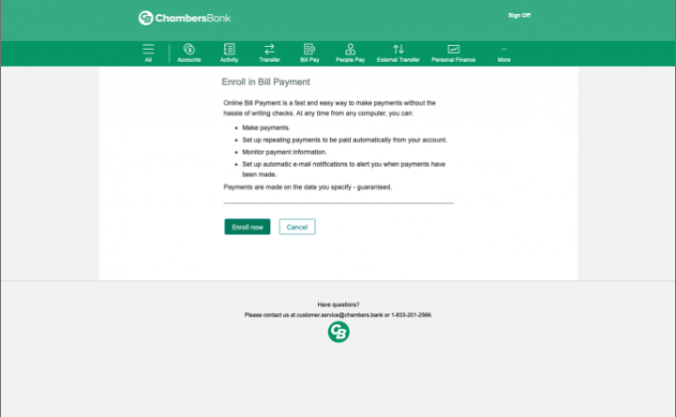 Step Two: The "Enroll in Bill Pay" screen will appear; select "Enroll now" to begin.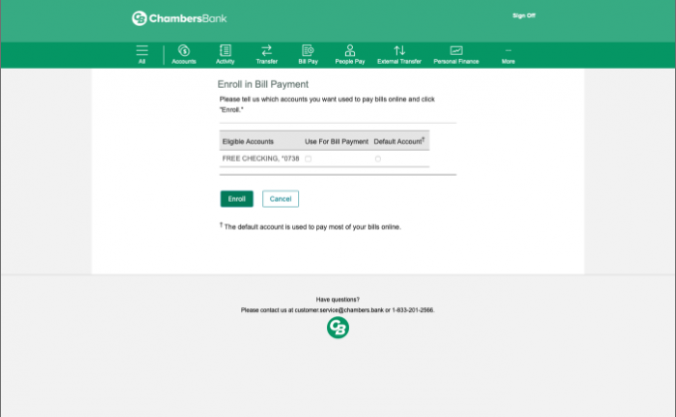 Step Three: Click the radio button for the account that will be your  Default Account.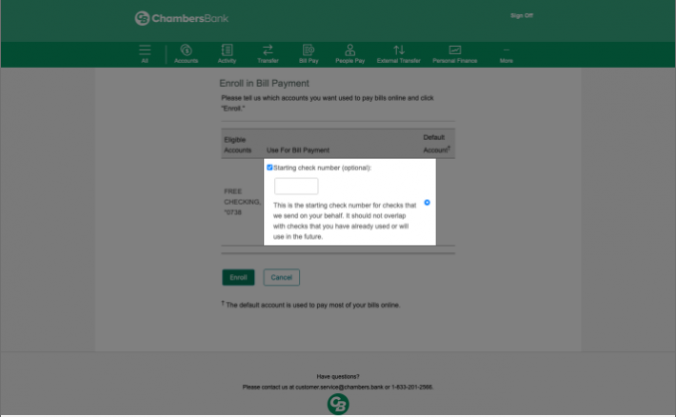 Step Four: Click the  Starting Number  checkbox and enter a check number if you would to have a separate sequence of check numbers for bill payments (this is optional).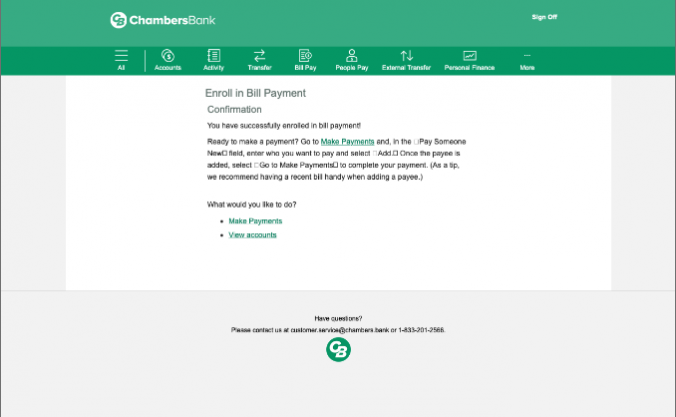 Step Five: You will receive a confirmation message after successfully enrolling. From here you can start adding payees.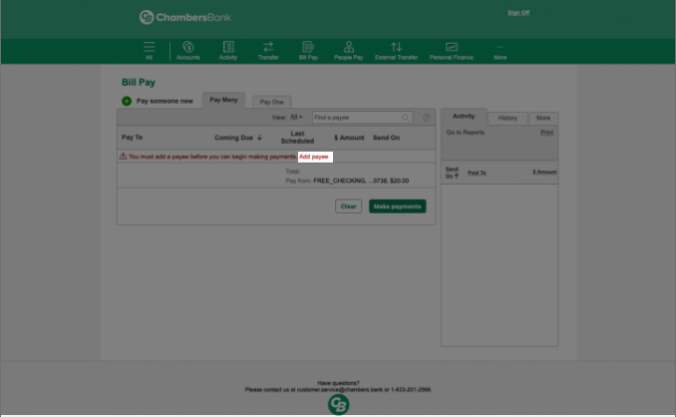 Step Six: Use printed copies of your bills and click on the red "Add Payee" link to begin adding each biller to your Bill Pay service.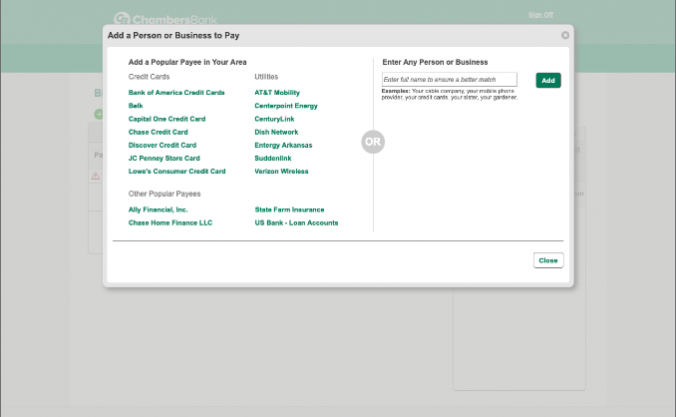 Step Seven: Select from among one of the popular payees in your area or enter any person or business in the search bar on the right-hand side of the window.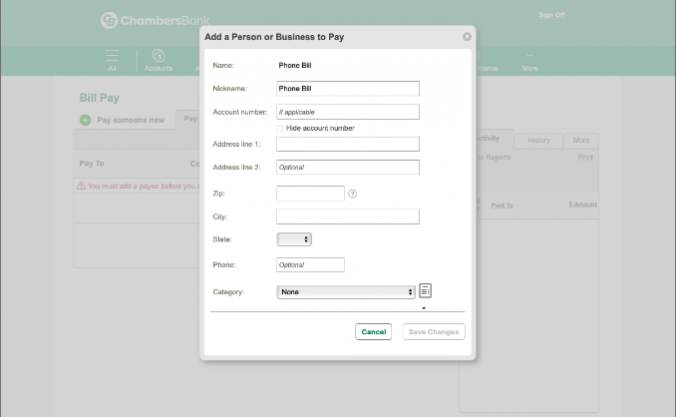 Step Seven: If you select one of the popular payees, you will be prompted to enter your account number. If you search for a payee, a list of suggested matches may appear.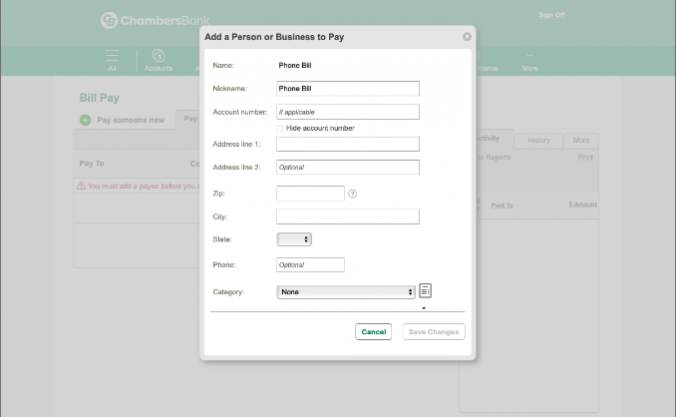 Step Eight: If no match is found, you will be prompted to enter a payee account number (optional), address, phone number (optional) and expense category.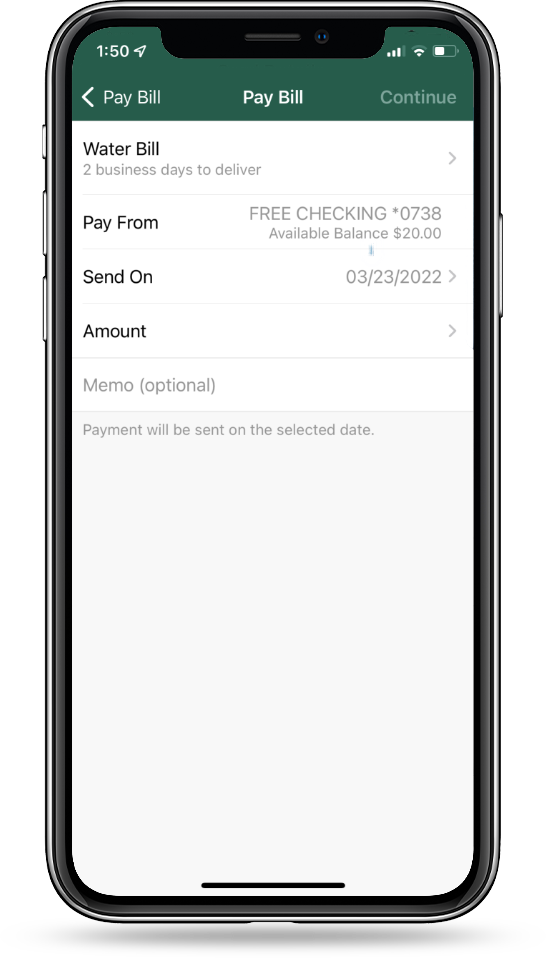 Take Control With Auto-Pay
eBills are electronic versions of paper bills. An eBill arrives from the biller into your Chambers Bank Bill Pay account (just like a paper bill arrives in your mailbox). By using Chambers Bank Bill Pay, you can view all of your bills – including account balances, transactions and statements – in one convenient location. You can also set up email alerts to notify you when a new eBill arrives in your Bill Pay account. To securely link a payee account with Bill Pay, enter your online userID and password from the designated payee, and select a billing frequency.
Note that it may take up to two billing cycles to receive an eBill, so continue to make your payments as scheduled until you receive an eBill.
Set-Up Auto Pay
Take Control With Auto-Pay
There are two types of payments you can schedule automatically:
Auto-Pay in response to an eBill, or Auto-Pay at regular intervals.
Auto-Pay in Response to an e-Bill
An automatic payment that you set up to be paid every time you receive an eBill without requiring approval each time. You can pay the full bill, pay the minimum due, pay nothing and file the bill, or create your own rule for how the bill gets paid. You can also select when to pay the bill – either when the bill arrives or a designated number of days before the bill is due (10 days is the default).
Auto-Pay at Regular Intervals
A payment that gets paid by establishing the time period when the payment should be made, along with other supporting payment details. You can specify the amount, the frequency, the start date and the end date or the number of payments to make. For example, you could have us schedule a payment for your car loan in the amount of $300 on the 1st of every month for the next 36 months.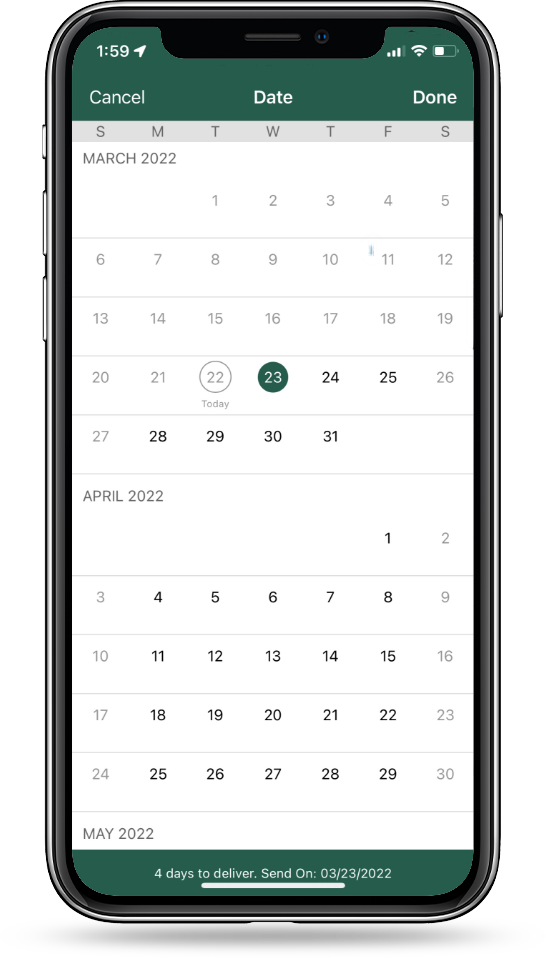 Never Fall Behind with Reminders
Reminders are not payments… they simply remind you when it is time to take action. You can set up single or recurring reminders and select how often you wish to receive reminders.
To set up Reminders, select the Payee (shown in green) and choose "Add reminder." You will select when you want to receive the reminder (default is 10 days prior to due date). You can enter an estimated amount due (optional) and change the amount before you pay.
Enroll in Bill Pay
Take Control of Your Finances
Explore some of the other ways Chambers can help you manage your money.
People Pay
An easy, quick and convenient way to pay anyone, anytime by using Chambers Bank Online Banking or with the Chambers Bank Mobile App! With a few clicks on your computer, tablet or smartphone, you can pay anyone – no matter where they bank – via a text message or email. 
Learn More
Saving Cents
An easy way to make everyday purchases part of your savings strategy. All you need is a Chambers Bank checking account with a debit card and a Chambers Bank savings account, and you can start saving today.
Start Saving
SecurLOCK Equip
A mobile app that allows you to control how, when, and where your debit card is used, and a simple and secure way to manage and monitor your payment transaction activity. SecurLOCK Equip can help keep your card safe and provide instant notifications whenever your card is used.
Sign-Up