Chambers Debit Card
Use anywhere MasterCard® is accepted.
Deducts from your checking account.
Use your Chambers Credit Card for Holiday Travel
Spending time with family shouldn't break the bank—even if they're a plane ride (or two) away! Chambers Bank is proud to offer financial solutions that can help you be near those you love this holiday season.
Safeguard Your Information

Keep your financial information safe by staying up-to-date on recent scams, frauds, and other trends that you need to be aware of in order to steer clear.
Savings Cents
With our free, new savings program, you can automatically round up your debit card purchases, and watch your savings grow!
Ultimate control of your debit card
With our SecurLOCK Equip app, you can control when, where and how your debit card is used.
Zero Balance Accounts
from Chambers Business
More control of your payments and collections
Face Coverings Requested
With the recent rise in COVID-19 cases, we request that all customers wear a face mask when entering our lobbies. Our team members will be masked for your protection.
Trust us for your
mortgage needs.
Whether you're buying your first home or want to access your home's equity, we're here to help you navigate the mortgage process.
People Pay
With a few clicks on your computer, tablet or smartphone, you can pay anyone – no matter where they bank – via a text message or email.
Business Credit Cards
Spending power for your small business – choose rewards or no annual fee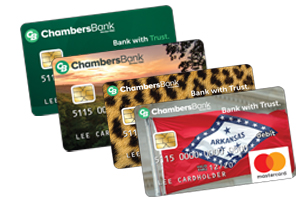 Choose your design and get
your card instantly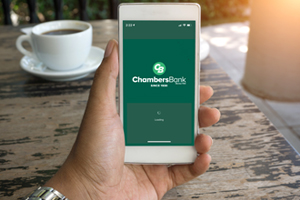 Check your balance anytime,
anywhere with Online, Mobile
and Telephone Banking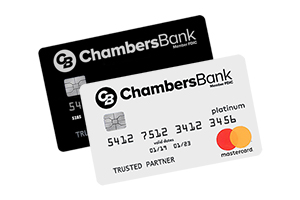 Low rates or rewards – you choose!
MasterCard® or Visa®
Whether you need personal or business banking, we have been helping Arkansans follow their dreams for 90 years.
---
Personal Checking
Options for minimum monthly balance, no monthly service charge
Mortgage Loans
We're here to help you finance your first home or your dream home
eStatements
Instant access to your account online, anytime
We are here, and we know you – so you can bank with trust. We are a full service community bank, but relationships are what set us apart. And every relationship starts with trust.
Our Arkansas roots grow deep, and you can trust us as your partner for every banking need. Family-owned in Arkansas since 1930, we have 24 branches throughout the state. In a busy and connected world, it is still important to know and trust your banker. And that makes us the natural choice for the Natural State.
We are more than just a community bank. We want our communities to be strong and growing, and we are committed to doing our part as your bank and as your neighbors.
---