Chambers Online Banking
How to set up your Chambers Bank Online Banking:
Step 1. Select "Sign up for Online Banking" under the online banking login box on our homepage
Note that online banking is managed by our core system provider. You will be alerted that you are leaving the Chambers Bank website for a third-party site, but know that our online banking site is also secure; click "Continue."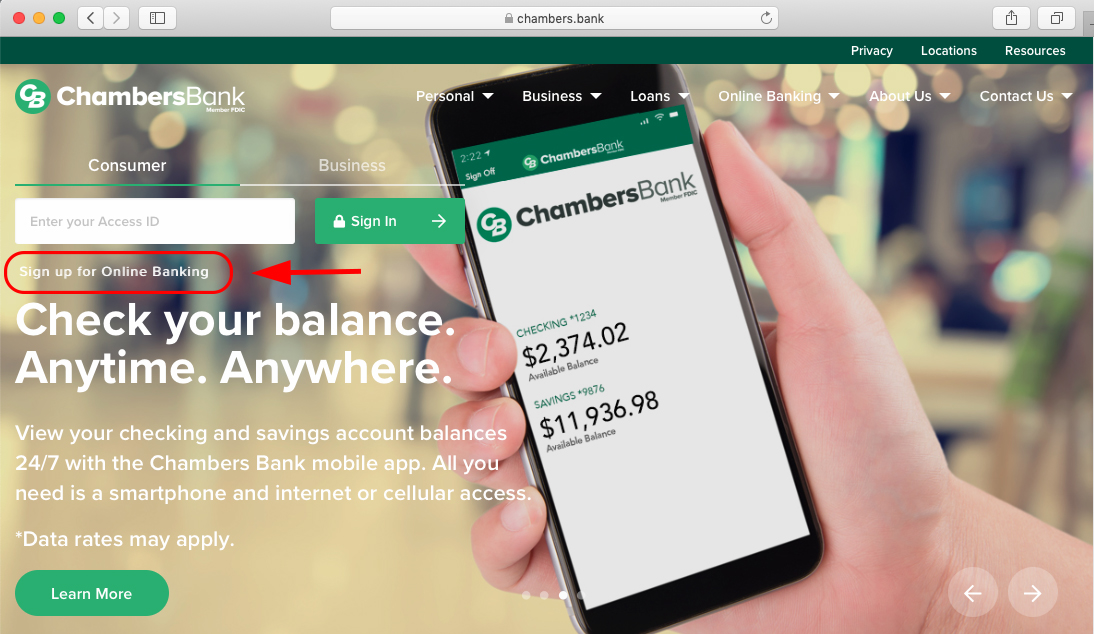 Step 2. Select a verification method:
Checking, Savings or Money Market account information – You will need your account number and last statement balance
Loan Account – You will need your account number, last payment amount and original principal amount
Verification Questions – You will be asked to answer questions derived from public or commercially available records.
**We do not keep a record of these questions or answers.


Step 3: Read and accept the online disclosures and agreement
Note: You must click the Online Banking Disclosures link (shown in green) before you can complete the agreement and move forward.

Step 4: Enter your information for verification purposes
Chambers Bank Online Banking features
Account Alerts
Easily monitor your account activity by text or email with our customizable account alerts, including account balance, overdraft, deposits, check clearing and large dollar transactions.
Learn more about Account Alerts
Bill Pay
Save a stamp and pay your bills through your convenient Chambers Bank account. You can set up recurring or one-time payments.
Learn more or enroll in Bill Pay
eStatements
Discover the benefits of our free eStatements:
• Safe and Secure – Keep your personal information out of the mailbox and trash.
• Convenient – Get an email the day your statement is available. No more waiting on the mail!
• Green –Save paper and clutter by receiving your statements electronically.
Mobile App
Securely access your accounts from your mobile phone or tablet with our free mobile app! Available for iPhone, iPad and Android devices.
*Message and data rates may apply.
Learn more about our Mobile App
Mobile Deposit
Deposit your check from anywhere with our free Mobile Deposit! Simply point, click and deposit using your phone's camera. We'll send you an email to verify the deposit has been made.
*Message and data rates may apply.
**Must be a customer at least 30 days to qualify.
People Pay
With a few clicks, you can pay anyone–no matter where they bank–via a text message or email. People Pay is available in online banking and the Chambers Bank app.
Enroll in People Pay by logging into online banking, then selecting "People Pay" from the menu on the top of the page.
Personal Finance
A free digital money management tool, integrated into online and mobile banking, that empowers you to take control of your finances and simplify your life. With Personal Finance, you can see all of your account balances in one place–not just your Chambers Bank accounts–which can help you identify budget areas that need the most attention and learn more about how you spend money.
Learn more about Personal Finance
SecurLOCK Equip
Control how, when, and where your debit card is used with the SecurLOCK Equip mobile app–a simple and secure way to manage and monitor your payment transaction activity. SecurLOCK Equip allows you to turn your debit card on and off, set transaction spending limits, and select geographic locations where your card can be used. You can also set alerts to be notified every time your card is used, or when transactions are outside your preferences (location, merchant type, transaction types, or spend limits).
Learn more about SecurLOCK Equip