Pay Anyone Using Their Mobile Number or Email
A quick and convenient way to pay anyone, anytime by using Chambers Bank Online or Mobile Banking! With a few clicks, you can pay anyone – no matter where they bank – via a text message or email.  
Ready to Start Banking Online?
It's super simple. So simple, you can do it in 4 easy steps and under 5 minutes.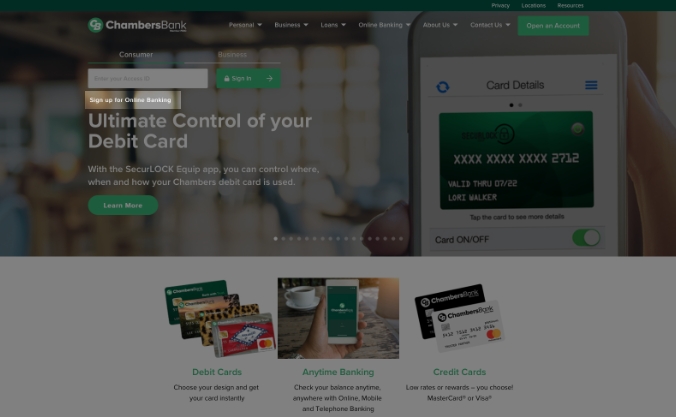 Step One: Select "Sign up for Online Banking" under the online banking login box on our  homepage. (Note that online banking is managed by our core system provider. You will be alerted that you are leaving the Chambers Bank website for a third-party site, but know that our online banking site is also secure; click "Continue.")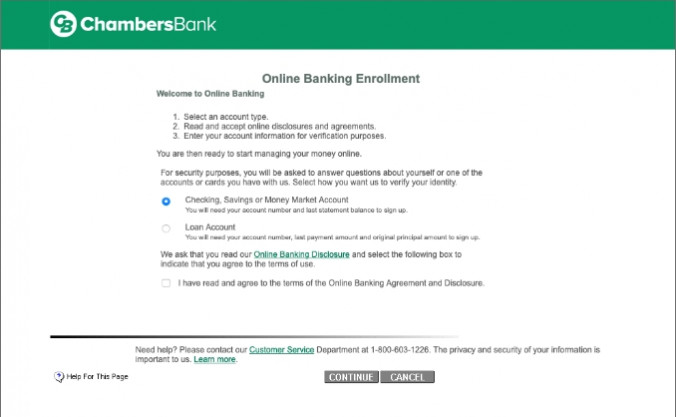 Step Two: Select a verification method:
• Checking, Savings or Money Market account information – You will need your account number and last statement balance
• Loan Account – You will need your account number, last payment amount and original principal amount
• Verification Questions – You will be asked to answer questions derived from public or commercially available records.
**We do not keep a record of these questions or answers.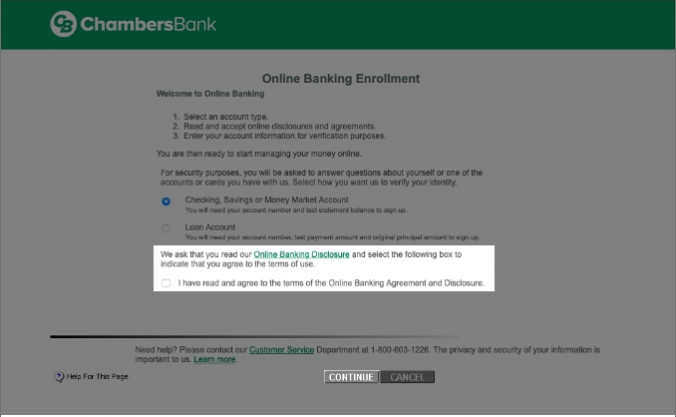 Step Three: Read and accept the online disclosures and agreement. (Note that you must click the Online Banking Disclosures link in green before you can complete the agreement and move forward.)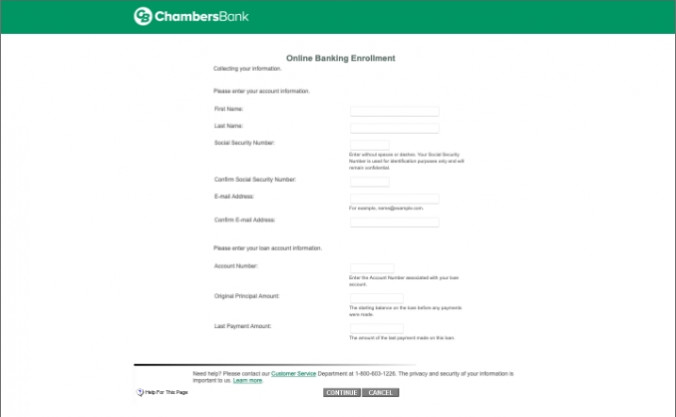 Step Four: Enter your information for verification purposes. This is your last step, hooray!
Take Control of Your Finances
Explore some of the other ways Chambers can help you manage your money.
SecurLOCK Equip
SecurLOCK Equip is a mobile app that allows you to control how, when and where your debit card is used. It's a simple way to keep your card safe and provides instant notifications whenever your card is used.
Learn More
Mortgage Solutions
Chambers is proud to offer our customers with competitive rates for home loans. And we keep things simple, with an experienced staff and a process you can understand.
Learn More
Savings Accounts
With a variety of account types, including Money Markets, you will find the perfect savings account for you. It's never been easier to keep your money safe while you work towards a secure financial future.
See Accounts