Ready, Set, Go Digital with Chambers eStatements
Stop waiting for physical statements in the mail, finding a safe space to store them, and digging through folders and folders of paper for historical data. Instead, switch to eStatements.
No more filing cabinets. Safely review your documents online, recent, and historical.
No mailbox needed. Have 24/7/365 access to your statements with the click of a button.
Enroll in minutes and instantly view and download documents as soon as they're available.
Use less paper and minimize waste by opting to access your banking statements online.
How to enroll in eStatements
It's super simple. So simple, you can do it in 5 easy steps and under 5 minutes.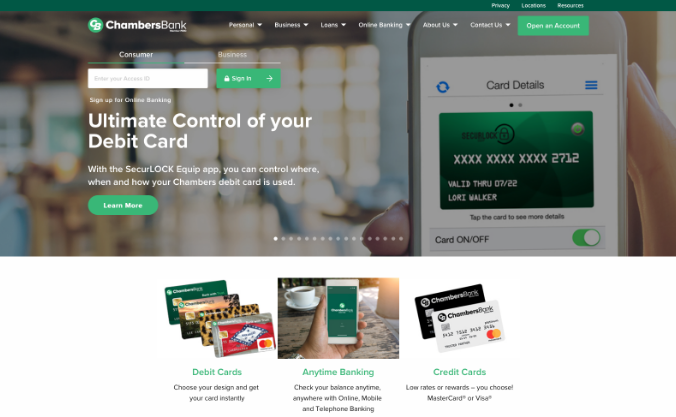 Step One: Log into Chambers Online Banking.
Step Two: Select "More" from the menu on the top-right of the page. Then select "Customer Service".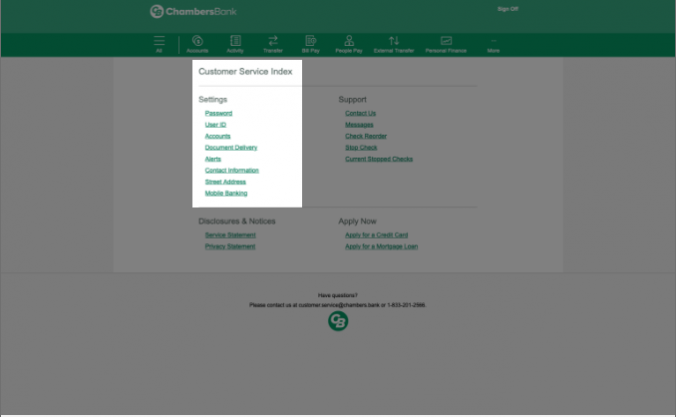 Step Three: Select "Document Delivery" from the subsequent Settings menu.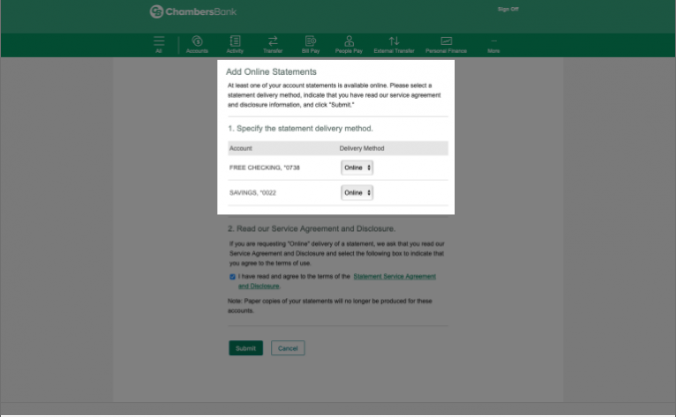 Step Four: Choose account(s) you wish to change and select "Online" as the Delivery Method.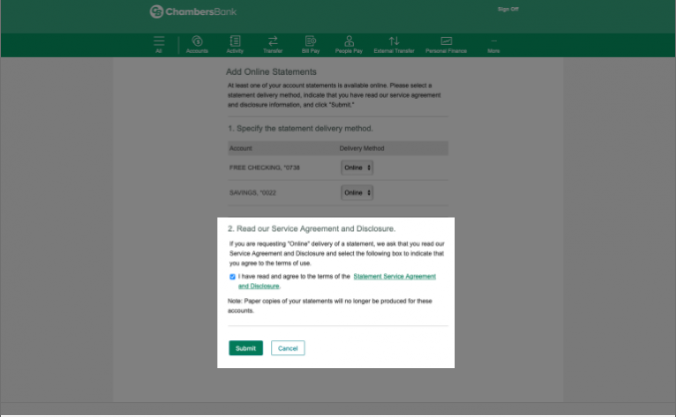 Step Five: Read and Acknowledge Service Agreement and Disclosure and click Submit. (Note: You must click on the Statement Service Agreement and Disclosure link before you can check the box for acknowledgement.)
Get More Out of Digital Banking
Explore some of the other ways Chambers can help you manage your money online.
Saving Cents
An easy way to make everyday purchases part of your savings strategy. All you need is a Chambers Bank checking account with a debit card and a Chambers Bank savings account, and you can start saving today.
Start Saving
People Pay
An easy, quick and convenient way to pay anyone, anytime by using Chambers Bank Online Banking or with the Chambers Bank Mobile App! With a few clicks on your computer, tablet or smartphone, you can pay anyone – no matter where they bank – via a text message or email. 
Learn More
SecurLOCK Equip
A mobile app that allows you to control how, when, and where your debit card is used, and a simple and secure way to manage and monitor your payment transaction activity. SecurLOCK Equip can help keep your card safe and provide instant notifications whenever your card is used.
Sign-Up