Carry Chambers in Your Pocket with Mobile Banking
With an easy to download app, you can control all of your banking needs from your smartphone.
Enjoy the convenience of 24/7 banking with the Chambers Bank mobile app!
Remotely deposit a check by taking photos of the check and uploading them to the app.
Transfer money between any of your Chambers Bank checking and savings accounts with just a simple click. 
Online Payments, Unlocked
Pay your bills, or transfer money to a friend, all from your mobile device.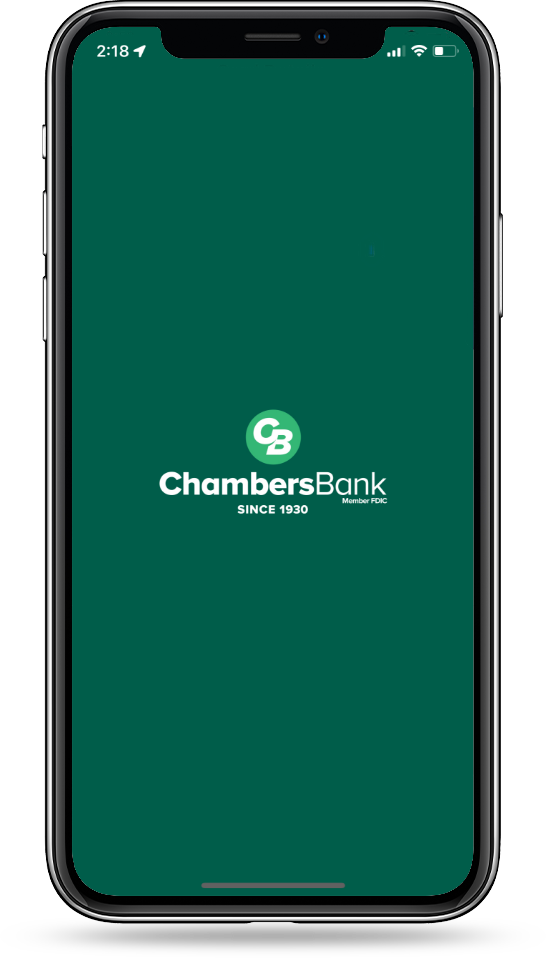 Download the Chambers Bank App
On your smartphone or tablet, visit your Apple or Google Play app store, and search for "Chambers Bank." Note that there are two versions of our app – one for personal accounts/consumers, and one for business accounts. Choose the top option (the one with the green circle) if you have personal checking/savings accounts; choose the bottom option (the one with the white circle) if you have business accounts.
Your Guide to Mobile Banking
New to mobile banking and not quite sure how to use all the features?
We've built this library of how-to guides to show you the way.
Get More Out of Digital Banking
Explore some of the other ways Chambers can help you manage your money online.
SecurLOCK Equip
A mobile app that allows you to control how, when, and where your debit card is used, and a simple and secure way to manage and monitor your payment transaction activity. SecurLOCK Equip can help keep your card safe and provide instant notifications whenever your card is used.
Sign Up
Saving Cents
An easy way to make everyday purchases part of your savings strategy. All you need is a Chambers Bank checking account with a debit card and a Chambers Bank savings account, and you can start saving today.
Start Saving
People Pay
An easy, quick and convenient way to pay anyone, anytime by using Chambers Bank Online Banking or with the Chambers Bank Mobile App! With a few clicks on your computer, tablet or smartphone, you can pay anyone – no matter where they bank – via a text message or email. 
Learn More