Control your money. Don't let it control you.
We're introducing a new way to take control of your money: Personal Finance.
Personal Finance is a digital money management tool, integrated into online and mobile banking, that empowers you to take control of your finances and simplify your life. Budgeting, account aggregation, categorization, and mobile access are just a few of the tools to guide you along your way. And it's all available at no additional charge for Chambers Bank online banking customers.
See all of your account balances in one place–not just your Chambers Bank accounts.
View your various financial account balances and transactions in one convenient place and get a complete picture of your finances. Our Personal Finance tool collects data from 10,000+ financial institutions to help you see your total financial health, not just the amounts you have in your checking or savings accounts. You can add loans, credit cards, investments, 401Ks and more... even if they're not Chambers Bank accounts!
Identify budget areas that need the most attention.
Visualize and interact with your budgets in a more meaningful way. Since not all budgets are created equal, using circles or "bubbles" to represent budgets allows you to quickly identify budgets that need the most attention. This feature also helps you set financial goals–such as growing your travel account or emergency fund–and helps you work toward meeting those goals.
Learn more about how you spend your money.
Get powerful insights on where, when, and how you spend. Personal Finance automatically categorizes and tracks spending from all your accounts, so you can see where your money is really going.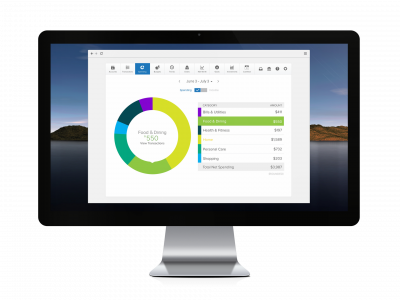 Protect your sensitive information with online security.
We're committed to confidentiality, integrity, and security. With that in mind we've integrated Personal Finance into your online and mobile banking to ensure that your sensitive information is protected with the highest of security standards.
Getting Started with Personal Finance
To use Personal Finance, Chambers Bank customers must first enroll in Online Banking and accept Chambers Bank's Online Banking terms and conditions. Once you're enrolled, sign into Online Banking and select the More tab at the top of your screen. Select Personal Finance to begin.
After enrolling in Personal Finance, you'll receive an email asking you to verify your email address. Verification is required to receive Personal Finance alerts. If you change your email address, an email will be sent asking you to verify your new email address.
Link Accounts
Enroll in Personal Finance and the accounts you have with us are automatically linked to Personal Finance. From the start, you can take advantage of transaction, spending, budgeting, and debt management tools, and view your cash flow. To get a more complete picture of your finances, link the accounts you have at other financial institutions.
Click + Add an Account at the top right of Personal Finance page.

Click a financial institution's name or enter your financial institution's name
Find the institution and then select it. You may see multiple sites for the same financial institution. We show you the web address for the site to help you identify the right one.
Enter the same user name and password you use to access your account information online. Your user name and password are securely stored using the highest levels of security and encryption.
Once we successfully connect with your financial institution, we link all the accounts you have with them. If you have more than one site that you access with different logins, link them all individually. Linked account balances, transactions, and other details are then retrieved and displayed in Personal Finance. We use your stored login data to retrieve your account information automatically every night. Then, when you access Personal Finance, you'll see up-to-date information.
Link an Account Manually
If the account is not listed in your search results, you can choose to link it manually so that information can be included in your complete financial picture. Manually linked accounts are not automatically refreshed, but the information you enter is displayed. Manual accounts give you the opportunity to link accounts and assets that are not available online. For example, you can enter the value of a vehicle or the balance of an account with no online access to information.
On the Add Accounts page, scroll to the bottom of the page and click Add a Manual Account.
Select the type of account you want to add.
Enter details about the account (Note: The details will vary depending on the Account Type you select):
- Account Balance
- Account Name
- Business (You can mark the account as business account)
- Credit Limit
- Interest Rate
- Minimum Payment
- Original Balance
- Payment Due Date
- Property Type
Click Save. The account is displayed on the Personal Finance page.
Update Manual Account Information
You must update manual account information periodically. Transactions against the account or asset are not automatically retrieved. Instead, you can manually add transactions to the account and/or update the value/balance.
Click the account type on the left, then click the account you want to edit.
Make your changes on the Details tab of the Account Details dialog box. The changes are saved automatically.
Get the Complete Picture
You add the institutions you do business with, and Personal Finance retrieves the eligible accounts and transactions automatically. Don't have an online account for some of your financial information? Then link accounts manually and provide basic account information. You'll want to modify the information for manual accounts if anything changes over time. The more accounts you link, the more complete your financial picture will be.