As a family-owned banking network with nearly 90 years of service across Arkansas, we at Chambers Bank dedicate ourselves each day to supporting those who live and work around us. From volunteering our time and patronizing local businesses to participating in events and donating to charitable organizations, we stand behind our mission to improve the financial well-being and quality of life of our customers and the communities we serve.
With another season right around the corner and school about to begin, there are many opportunities for us to help others—whether it be sharing our time, our talents, or our financial resources. That said, we encourage you to seek out some ways you can "do good" for Arkansas communities. All you need is a little inspiration, and here are five ideas to get you started:
Donate money or goods to charities.
If you'd like to donate to a charitable organization, it's important to contribute to one that you believe in. You can start by reviewing the group's mission statement to see if it aligns with your values and then contact a representative to ask how to give. Not sure where to donate? Try answering this question first and then research your options: If I could change something in my community for the better, what would it be?
Once you've decided to make a financial contribution, try to give directly versus through a third party; this ensures your funds go to support the cause. Additionally, if you itemize taxes, get a receipt or printed record of your donation from the charity that includes the date, the amount given, and the name of the organization. You can check the status of an organization here on the Arkansas Charities Database.
Want to set money aside to make a larger donation at a later time? You can open a dedicated Chambers Savings Account online and automate your giving by setting up a payroll deduction to your savings account or setting up an auto-transfer from your Chambers Checking Account to your Chambers Savings account. If you have children, get them involved too by starting a donation jar in your home and discussing the importance of donating and sharing resources.
Giving non-cash items to area charities and non-profit groups is another option you may want to look into. Call or stop in at the group's office and ask what their needs might be. Shelters often ask for gently used clothing, hygiene products, and gift cards, in addition to toys, non-perishable food items, and bedding. Just make sure any used items you donate are clean and in good condition before you drop them off.
How Chambers Helps: Each year, Chambers gives generously to charities and non-profit organizations across Arkansas.
In February 2022, we celebrated the women of Chambers Bank by providing a donation in honor of each woman employee. Our CEO John Ed Chambers III gave $1,970 to the Women's Foundation of Arkansas, a gift representing the 197 women of Chambers Bank and our ongoing commitment to equity and inclusion.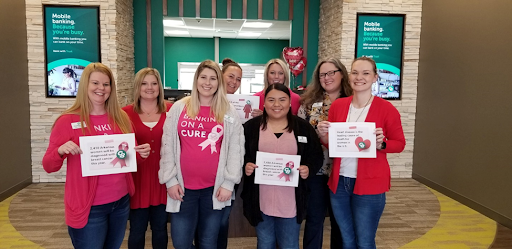 Volunteer your time doing something for others
Volunteering often provides help to people and communities with immediate needs, whether it's a fundraiser for an individual or family, a work day to improve a property, or a community dinner to share a healthy meal. Volunteering also allows you to share your time and talents with others, gives you a sense of purpose, and is a perfect opportunity to make new friends!
If you're thinking about volunteering, consider what your goals are and why you want to volunteer. Does it help someone near you in need? Can it help you further develop a skill? Will it grow your professional network?
Once you've decided what you can offer as a volunteer, you can seek out some opportunities in your community. Here's just a short list of places that may need a few helping hands:
Libraries

Animal shelters

Food banks

Homeless shelters

Schools or community colleges

Nursing homes or assisted living facilities

Faith-based organizations
How Chambers Helps: Our staff at Chambers shares their time and talents often by volunteering throughout Arkansas; it's a great way to make an impact and communicate our mission.
In June 2022, we held a fundraiser in Waldron for a Chambers team member who was seriously injured in a car accident. We were able to raise over $4,600 for him and his family.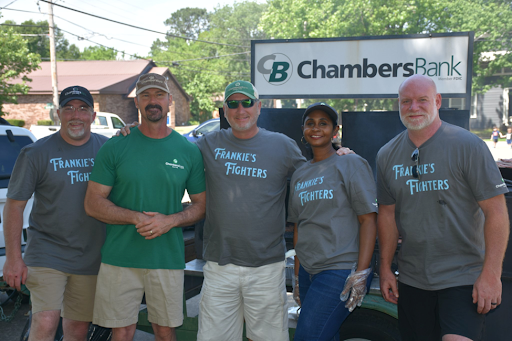 Support your local businesses.
Small and local businesses are the foundations of our communities, and besides giving our spaces a hometown feel, they're an important part of our local economies. You'll also notice that the owners of small and local businesses are some of the friendliest people you'll meet, and when you shop or get service done at their establishments, you'll get excellent customer service, with a smile.
So, want to know how you can show your support? Next time you plan to eat dinner out or get a coffee, go to a local restaurant or coffee shop and order up! Better yet, bring the whole family and make your visit a regular occurrence. Looking for a unique gift? Then shop at a local boutique for something special or one-of-a-kind. Overall, there are many ways you can shop local and shop small. If you'd like a few more ideas, look here.
How Chambers Helps: As a community-owned banking network with 24 branches throughout Arkansas, we're a banking hub for many small and local businesses that appreciate the personalized business services we offer, including loans, ACH processing, checking and savings accounts, and remote deposits.
Our Conway team participated in a fun Bowling for Business event for the Conway Area Chamber of Commerce in June 2022.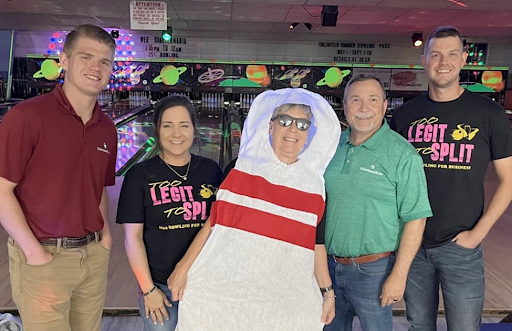 Attend and participate in local events.
The area you live in is a lot more than just where you have a home; it's a place for gathering with friends and neighbors, conducting business, and sharing interests. If you don't usually attend local events, now is the perfect time to give it a try! You will get a chance to meet new people, find out more about what's happening in your area, and share thoughts and ideas that inspire new personal or business pursuits.
Another benefit of participating in local events is that when you attend, you might be supporting a local business that is there as a vendor, sponsor, or host. You may end up buying lunch from a local restaurant, picking up advertising information from a local service provider, or even discovering a new work opportunity.
How Chambers Helps: Chambers Bank sponsors events in towns and cities across Arkansas throughout the year. You might see our staff participating in events, whether it's a 5K run, a carnival, or a community picnic.
Here are some of our team members representing Chambers at the 2022 Dover Hometown Fun Fair.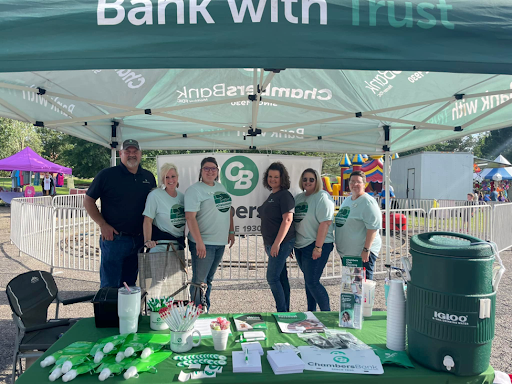 Educate the next generation on financial wellness.
Financial responsibility is a skill that can be taught to children at a young age; it not only helps them develop good personal habits, but it also teaches them how to share and give back to others.
If you're a parent, you can educate your child about money by establishing an allowance, helping them understand what household expenses are, and including them in basic spending decisions like shopping for groceries and clothing. You can also get them started with a Chambers Youth Savings account to help them learn to manage money.
If you don't have children or yours are grown up, you can still help our youth learn about financial wellness by volunteering in youth programs such as Junior Achievement. If you're a business owner and you have young people on your payroll, you can teach them about business management as well as help them understand their paychecks and what the deductions on their paychecks go toward.
How Chambers Helps: Through classes taught at area schools and by savings incentives and campaigns at our banks, we like to support the financial wellness of our youth.
Chambers team members had fun presenting the "Saving Money is Cool" to students at Owl Creek Elementary in Fayetteville.
Now that you've discovered some ways you can "do good" in your communities, we hope you take some time to contribute however you can, whether it's your time, your talents, or your financial resources. Everything counts. In fact, we've learned after decades of service throughout Arkansas that when you give to those around you, it returns back to you in some pretty amazing ways.