Pay Anyone Using Their Mobile Number or Email
A quick and convenient way to pay anyone, anytime by using Chambers Bank Online or Mobile Banking! With a few clicks, you can pay anyone – no matter where they bank – via a text message or email.  
Send money to your friends, family, coworkers, and others and be confident it will arrive.
No, People Pay won't help you get revenge, but it will make it easier to pay people back when you're fresh out of cash.
No more trips to get cash or to deliver a payment, instead you can send someone money from the comfort of your couch.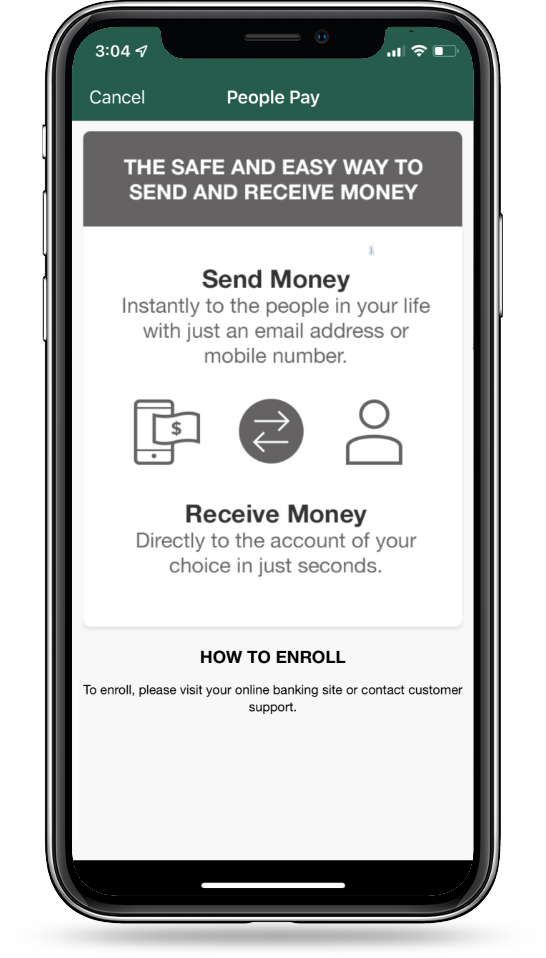 How Does People Pay Work?
With People Pay you can set up your contacts to receive money by any or all of these delivery methods:
Mobile phone number (for text message delivery)
E-mail address
Bank account number
Recipients of text and email payments receive directions on how to claim their money after you send it. Along with your payment, you can send a personal message.
Your Guide to People Pay
New to People Pay and not quite sure how to use all the features? We've built this library of how-to guides to show you the way.
Got Questions? We've Got Answers!
No, there is no cost to the sender or the recipient to use Chambers People Pay.
Yes. Security is a top priority and we have taken all of the necessary steps to ensure your money is delivered securely.
Bank account: You will be prompted for your bank routing number, account number, and account type.
Standard – Your money is delivered in 1-3 days
Instant – For eligible bank accounts, your money is delivered instantly


Debit card: If you have an eligible debit card, you can deposit money directly to that debit card.
The money is deducted from your account when the payment is claimed by the recipient.
You will be notified that a payment has been claimed. You can also check the status by visiting People Pay and viewing your outgoing payments, where the status will be displayed.
You will be notified that the recipient declined the payment and they cannot claim that payment in the future. If a payment was accidentally declined, you can send the money to the recipient again, but it will require that you log back into People Pay and send another payment.
If the recipient does not claim the money in the time allotted, the payment expires and the recipient can no longer claim the payment.
The claim code was sent to the recipient via email or text.
If he/she cannot locate the claim code, you can locate it by logging into People Pay and viewing your Outgoing transactions. When you click on the recipient, the Outgoing Payment information is displayed, including the claim code (shown at the bottom of the screen).
Once you have confirmed the recipient and confirmed the method of notification, the recipient will be notified.
.
Take Control of Your Finances
Explore some of the other ways Chambers can help you manage your money.
SecurLOCK Equip
A mobile app that allows you to control how, when, and where your debit card is used, and a simple and secure way to manage and monitor your payment transaction activity. SecurLOCK Equip can help keep your card safe and provide instant notifications whenever your card is used.
Sign-Up
Saving Cents
An easy way to make everyday purchases part of your savings strategy. All you need is a Chambers Bank checking account with a debit card and a Chambers Bank savings account, and you can start saving today.
Start Saving
Bill Pay
Online Bill Pay is a fast and easy way to make payments without the hassle of writing checks. At any time, from any computer, you can: make payments, set up repeating payments to be paid automatically, monitor payment information, and set up email notifications to alert you when payments have been made.
See Accounts